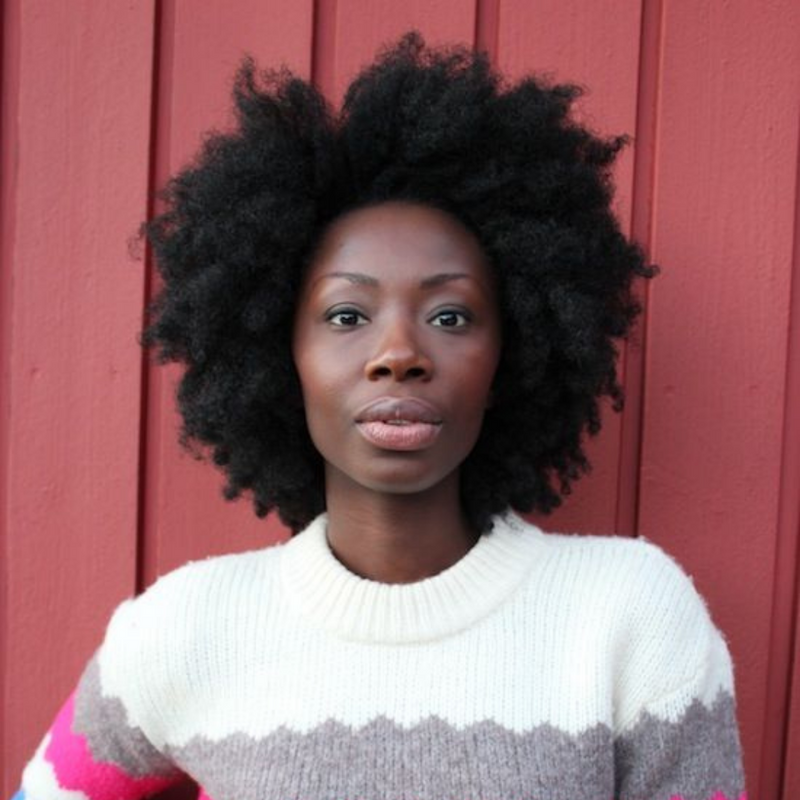 We often get asked the question how to care for our 4c hair extensions. We can tell you that it is not that much different from caring for your own 4c hair!
Out of all the curl patterns we carry, our 4c hair has the tightest texture. The hair strands are curled in very tight z-patterns, sometimes barely noticeable. Just like other curl types, 4c hair comes in different densities and porosity levels. Yet, 4c hair has a few typical characteristics that make it stand out from the curl pack.
4c hair doesn't retain moisture easily and dries out quickly, more so than other looser curl patterns.
4c hair is prone to a fair amount of shrinkage. It can shrink up to 75%. 
4c hair is vulnerable to tangling and matting, if not properly taken care of.
4c hair is very delicate and breaks easily.
So what is the best way to care for 4c hair and bringing out its beautiful qualities? Let's go through a few best practices!
WASH 4C HAIR WITH CARE
It's important to keep your scalp clean and healthy, but don't wash your hair with shampoo too often. It is perfectly fine to leave 2 to 4 weeks between every cleanse. Don't use a shampoo that contains sulfates and alternate between washing your hair with a conditioner and a sulfate-free shampoo. You should always wash your hair in small sections to minimise tangling as much as possible. Another great way to minimise tangling is to pre-poo your hair before you start your wash day. Coat your hair with an oil or conditioner and gently untangle your hair with your fingers, before you jump into the shower. 
A great way to minimise tangling is to pre-poo your hair before you start your wash day. 
HOLD ON TO MOISTURE FOR DEAR LIFE
4c hair does not retain moisture very well, yet ironically it is the curl pattern that needs moisture the most. The tight kinks in 4c hair prevent the flow of sebum through the hair. You need a good moisturiser, that caters specifically to kinky hair. These moisturisers are often thicker than regular moisturisers.
Once your hair is properly moisturised, you need to seal in the moisture with a good sealant like coconut oil, avocado oil, or shea butter. Even when you wear a protective style, you need to moisturise regularly. 
REGULARLY DETANGLE 4C HAIR
4c hair needs to be regularly detangled, as tedious as this can sometimes be. It has a very tight curl pattern and this causes the hair to tangle much quicker than other textures. If you don't take this seriously, your hair will become matted and break.
Detangling 4c hair is a gentle process. It's best to use your fingers and run your fingers softly through damp hair. Use a conditioner with lots of slip to help you with this. When you bump into knots, don't yank at your hair. Use your fingers to gently pull out the hair strands from the knot. When you are done finger-detangling, you can use a wide-tooth comb to run through your hair once more.  
DEEP CONDITION, DEEP CONDITION!
4c hair loves a good deep conditioning! We advise you to deep condition your hair weekly and do a hot oil treatment right after to seal in the moisture. Use a thick deep conditioner to keep your kinks healthy and shiny. Jamaican Black Castor Oil is our favourite oil to use for a hot oil treatment. Just heat the oil in the microwave, but make sure it is a decent temperature before you pour it over your hair and scalp. Place a shower cap and a towel over your hair. Let it sit and watch the magic happen. 
Jamaican Black Castor Oil is our favourite oil to use for a hot oil treatment.
KNOW WHAT'S IN YOUR HAIR PRODUCTS 
All hair products are not created equal and not all hair products are great for 4c hair textures. 
When looking for hair products, make sure you know your hair porosity. In addition to that, avoid shampoos with sulfates and conditioners with silicones and parabens. Also, steer clear from gels with alcohol and leave-in conditioners with mineral oils.
Many naturalistas were able to find success using products with exclusively natural ingredients or using just the natural ingredients themselves. Examples of natural ingredients that are great for hair are shea butter, rose water, and chebe powder. You can also opt for natural oils such as castor oil, coconut oil, jojoba oil, etc. Experiment and see which ones work great for you.
DON'T FORGET ABOUT THE LOC/LCO METHOD
The LOC/LCO method is a great method to retain moisture. As said before, 4c hair loves hydration but has difficulties holding on to it. However, if you add moisture in the right order, you will see amazing results. The letters in the LOC method provide you with the order in which you use your hair products. First, you add a leave-in conditioner, then an oil, and finally a cream. The cream acts as a sealant. In the LCO method, you start with a leave-in conditioner, then a cream, and finish with an oil. Here, the oil acts as the sealant. 
Steer clear from gels with alcohol and leave-in conditioners with mineral oils.
SAY NO TO SILICONES!
As a side note, pay special attention to the products you use for this method. Don't use any products with silicones in them. While they may initially have your hair looking shiny and moisturised, in the long run your hair could break a lot more. The reason for this is that silicones coat your hair strands, yet repel water. Water is essential here and we don't want you to be stuck wondering what went wrong in the process. There are many great conditioners, moisturisers and creams without silicones, so do your research. 
Here's another golden nugget: If you use silicone-rich products, but do use sulfate-free shampoos, you will see lots of buildup in your hair over time. That is because only sulfates remove silicones effectively. 
PROTECT YOUR HAIR DURING THE NIGHT
 Image: Silke London
Wrap your hair in a silk bonnet or scarf or sleep on a silk pillowcase. Cotton is not your friend when you lay your head to sleep. It removes moisture from your hair strands, when you rub your head against it, while you sleep. The friction will also cause your hair to tangle, become matted etc. If you don't want to wake up in the morning with some heavy-duty detangling labour, wrap it up nicely. 
Wrap your hair in a silk bonnet or scarf or sleep on a silk pillowcase. Cotton is not your friend when you lay down.
CUT THE SPLIT ENDS
Split ends will happen over time and they're exacerbated by certain things such as heat. As much as you may desire longer hair, holding on to dead ends is not the way. At some point, the ends will break off. You will find yourself in a frenzy as it will seem like you're losing lots of hair. Quite often the split travels further up the hair shaft and you will be left having to cut off even more. Our advice: don't sleep on those split ends. You can cut your hair yourself if you have the skill or go see a professional hairstylist. Remember to give special attention to your ends regularly so that you minimise split ends as much as possible. 
DO SOME RESEARCH ON YOUTUBE
YouTube is the perfect go-to place for anything natural hair related. The trick is finding people with your specific hair type. It will take some digging but there are many great natural hair YouTubers with 4c hair. Find out what kind of products they buy, what styles they do, and what DIY products they make for their hair. They will also give you tips and tricks on what works and what doesn't, so you won't feel so alone on your journey.
APPRECIATE THE BEAUTY OF 4C HAIR
Avoid overstyling 4c hair and just appreciate its natural beauty. If you want to do something different with your hair, it is easiest to do a protective style. Styling 4c hair excessively can lead to breakage as it's very fragile. Braids, wigs, twists, and 4c hair extensions can all be great options. 
The key here is being happy with your texture and not needing it to be something else. 
Your hair is beautiful just the way it is. Just make sure that when you do opt for a protective style to moisturise your hair regularly and know when it's time to take it down. 
Related: What You Didn't Know About Finger Coils on Natural Hair