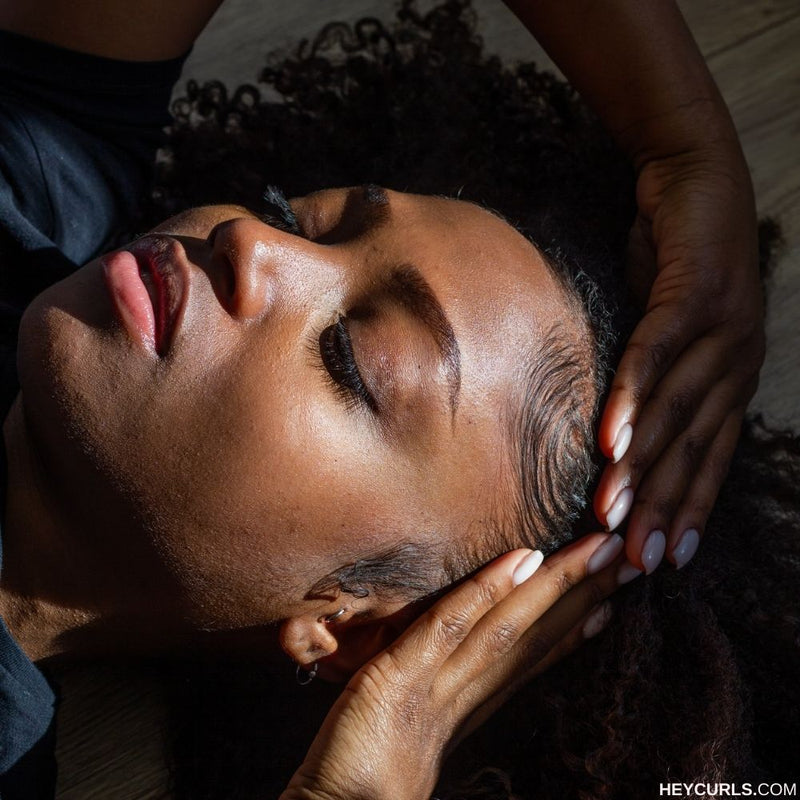 Every girl with natural hair knows that boss-babe feeling when her edges are laid down immaculately. For many Black women, styling those face-framing baby hairs is culturally ingrained from a young age, whether it's moms using a toothbrush to lay edges down, or learning to create designs and works of art with those tiny hairs as a finishing touch to the perfect hairstyle. 
Natural hair is coarse, yet fragile—and those baby hairs can be easily broken if not handled correctly. You could end up with flaking products, coils that spring back once you leave the house, or rock hard edges that just aren't that cute. Most women experiment for years to get the formula just right for their hairline, but we're here to help take the edge off. 
In this article, we'll teach you how to get smooth edges with natural hair, the right tools and the right products to use to get the sleek results you're looking for without damaging those precious hairs. 
What are hair edges?
Hair edges, also referred to as baby hairs, are those soft, short, feathery hairs located near your scalp. Edges are seen most often on Black women with natural hair, and those baby hairs can become a masterpiece throughout the years. Traditionally, this is a ritualist hairstyle that a lot of Black women use to improve their hair's appearance and give the front a neater look, and can be either slicked down or styled and shaped in swirls and other designs. 
Here are our top tips to lay your natural hair edges down effortlessly:
1. Use ingredients from mother nature
If you're looking for a natural product to get smooth edges, opt for a heavy oil like Jamaican black castor oil or coconut oil. Because natural hair is kinky and coily, the hair needs to be moldable, yet hold all day. Jamaican black castor oil is a heavy oil with a thick, honey-like consistency, while coconut oil can be used on those with finer hairs to weigh them down. Make sure your edges are fully wet before styling with these oils to avoid fighting with your coils. 
If you prefer a creamier consistency, shea butter or mango butter are holy grails for taming edges. Both have a dense, thick consistency and are naturally non-drying—so your edges stay soft, yet smooth and slick.
2. Use a toothbrush or boar bristle brush to style
As the saying goes, "mother knows best!" There's a reason why moms everywhere use a plain old toothbrush to lay their daughters' edges down. Because baby hairs are so fine, toothbrushes have lots of bristles to comb through and separate the hairs while you swoop and swoosh them along your hairline. Boar bristle brushes work the same way, and are great for distributing the hair's natural oils throughout the hair strands. 
You can also opt to use a Baby Tress Edge Styler tool, specifically created for laying edges. It's a 3-in-1 tool, which comes with a comb, boar bristle brush, and pointed end for those sleek finishes.
3. Use edge control products
If your edges are super short, you'll need to bring in the big guns. And for those who don't mind using formulated products, edge control or edge tamer is a styling product made specifically for laying down smooth edges. Edge control has a thick, gel-like consistency that's less fluid that regular hair gels—sort of like a cross between gel and pomade—to really give your baby hairs that extra hold. 
When choosing edge control products, opt for those that are low in alcohols, and humectants. Alcohols can dry the hair out, leading to frizz and breakage, while humectants like honey, glycerin, and aloe vera draw moisture in from the air, which could lead to coils springing back. The key is to find the right balance between moisturizing ingredients to keep edges soft, yet enough hold so they stay sleek all day.
Simply dip your toothbrush, boar bristle brush, or other preferred styling tool in the edge control, then brush the hairs down and mold them as you wish. 
4. Use a pin tail comb for fine details
Have you ever seen edges looking like works of art with intricate designs and perfect points? Those are created using the pointed end of a pin tail comb. Use the end of the comb to carefully define and shape your edges and designs. You can use a bit more edge control product at this point if needed, but it's not totally necessary. 
5. Use hairspray for extra hold
Once you're happy with your edges, you may want a little extra insurance. This step is optional, but you can lightly spritz your hairline with extra-hold hair spray to make sure those hairs don't go anywhere all day.
6. Use a silk or satin scarf to set the style
Once your edges are on fleek, you'll want them to stay that way! Take a large satin or silk scarf, wrap it carefully along your hairline, and tie in firmly place so the style can fully dry and take hold. Be sure to keep the scarf on for at least 20 minutes without fiddling! You can also opt to do this at night, laying your edges and tying them down before bed, to wake up to soft, smooth edges. 
Why silk or satin? These fabrics have tightly packed fibres, unlike cotton or other rough fabrics, which don't pull or snag on hairs, wrecking your beautiful creation. They also help hair strands retain their moisture, promote shine, and keep the hair smooth—otherwise you may end up with frizzy, dry edges.
Is laying your edges bad for your hair?
Laying your edges is not bad for your hair—as long as you are treating your baby hairs with TLC. Opt for moisturizing edge control products free of alcohols, and use a gentle hand when styling to keep your baby hairs thriving. 
Best edge control products for smooth edges
Carol's Daughter Black Vanilla Edge Control - Unlike other edge control products, this one goes on dry, not wet, smoothing down frizzy edges for total control. It's also made with moisturizing ingredients like aloe and honey to keep the hair soft and manageable.
Mielle Rosemary Mint Strengthening Edge Gel - Baby hairs are delicate and need all the TLC they can get. We love this edge gel from Mielle as its ingredients focus on hydration and building strength, like biotin, coconut oil, and babassu seed oil. 
Miss Jessie's Hold Me Down Super Edge Control Hair Gel - If your edges are super stubborn, this extra-hold gel is what you need. It has a strong hold yet is flake-free, infused with ingredients like castor oil and coconut oil. 
Creme of Nature Argan Oil Perfect Edges Extra Hold - For extra shine and hold, we love this argan oil-infused edge control gel for strong yet shiny face-framers. 
Complement your edges with curly hair extensions
Now that you know how to get smooth edges with natural hair, add a set of curly hair extensions to finish off your look. HeyCurls extensions match Type 3 and Type 4 hair, giving your curls, spirals, kinks and coils instant length and volume with no damage to your natural hair. Opt for a half-up hairstyle to show off your edges, or leave your hair loose for a carefree look. 
Do you have any extra tips for getting smooth edges? Drop them in the comments below, we'd love to hear them.