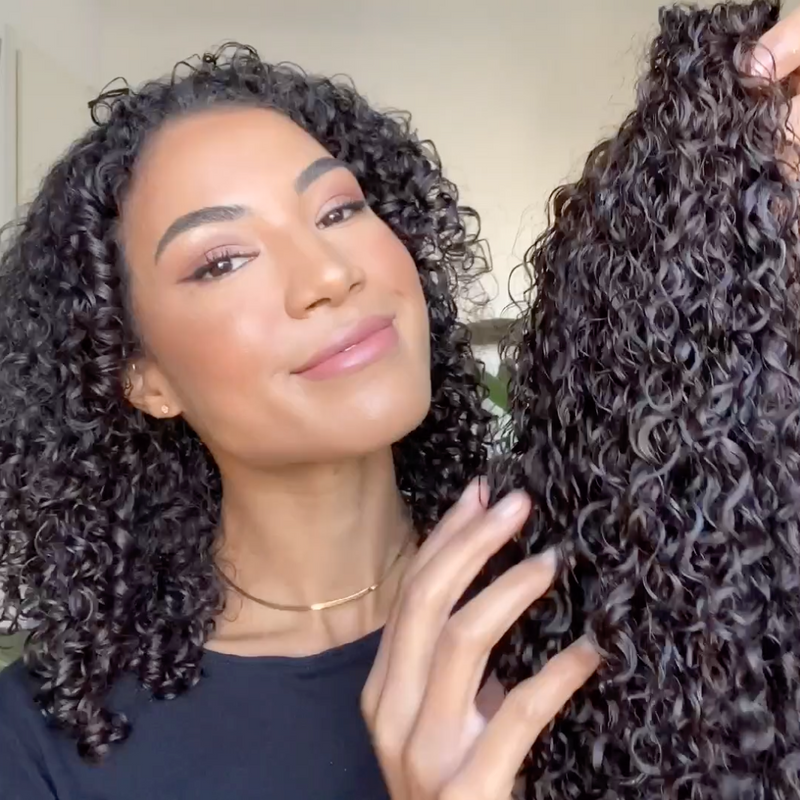 Congratulations! You're the proud owner of your very own set of high-quality curly hair extensions. Curly hair extensions should be washed for two reasons:
Either you have just received them and the curls are tighter or more "made" than you were expecting. This is because the hair has been steam pressed to match your natural curl type.
You've worn your hair extensions extensively and there's enough product build up that they're unmanageable.
Giving the hair extensions a wash will revive the hair if they're dirty or give the curls a more natural look if they're straight out of the box.
In this blog post, we'll talk about how to properly wash your curly hair extensions, including the proper technique, and tools and products to use for beautifully lush hair. Read on!
Types of curly hair extensions
First, let's talk about types of curly hair extensions and curl patterns. There are a variety of curl types ranging from Type 2 to Type 4. For the purposes of this article, we'll mainly talk about Type 3 and Type 4 curly hair extensions.
These are your classic Type 3a-3b curls. They can range from looser curls to tighter spirals and corkscrews. The curls are in the shape of the letter S.
These are Type 3b-3c curls. The curls range anywhere from ringlets to corkscrews, and the size of the curls are similar to the circumference of a pencil or permanent marker. 
These are Type 3c-Type 4a curls. The curls are kinky/coily, and dense. The size of the curls are similar to the circumference of a straw or crochet needle. Although Type 3c-4a hair is big in volume, these types of curls experience the most shrinkage.
These are Type 4b-4c curls. They're usually referred to as kinky, with sharp, wiry edges that resemble the letter Z.
How often should I wash curly clip-in hair extensions?
Curly clip-in hair extensions don't need to be washed often, since they aren't attached to your head. If you are taking proper care of them and removing them before bed, you should only need to wash them every 15-20 wears or so, and only when there is too much product build up to the point that they become unmanageable or don't hold a style well.
How to choose the right products to wash your curly hair extensions 
When choosing the right hair products to wash your curly hair extensions with, you'll want to choose sulfate and alcohol-free products. This is because these ingredients are drying on hair strands, and curly clip-in hair extensions are already naturally dry as they don't get the benefits of the natural oils from your scalp. In fact, natural hair is already the driest hair type, so there's the added double whammy of dryness. Nowadays, hair products are loaded with alcohols and sulfates, so be sure to read the product labels before buying.
A step by step guide to washing your curly hair extensions
All right! Let's get to the nitty gritty. When washing your curly extensions, you'll need to have the following on hand:
Wide tooth comb
Tangle teezer brush
Alcohol and sulfate-free shampoo
Deep conditioner
Hair mask (optional)
Leave-in conditioner or hair oil (optional)
Wash your curly extensions in the sink when they are un-clipped from your head. Do not wash your extensions when they are still clipped in! This will lead to a tangled, painful mess. Also, work with the wefts one-by-one to avoid excessive tangling. Wet hair is weak and prone to tangles and breakage, so working slowly with each weft will be ideal. If you're pressed for time, you can bundle the extensions with a hair elastic and clean them easily in a single shot. Ideally though, the extensions should be washed separately by hand to prevent tangling and to ensure each weft is adequately washed.
Step 1. Wet the hair and apply shampoo
Gently run the wefts under lukewarm water. When you are washing hair extensions, we don't recommend using hot water as this opens up the hair cuticles, leading to frizz.  As previously mentioned, be sure that you are washing with an alcohol and sulfate-free shampoo. Sometimes, you can skip shampooing and only wash your extensions with a cleansing conditioner (known as co wash). If the hair isn't all that dirty but is feeling dry and prone to tangles and frizz, co washing would be a good option. Take care when washing the wefts as well—gently handle them and never rub them too vigorously as you would with your natural hair.
Step 2. Apply a deep conditioner 
Time to restore those dry curls! Apply a deep conditioner from top to bottom to the weft, and carefully massaged into the hair, using your fingers to detangle the curls. Once you are sure the extensions are knot-free, move on to the next step.
Step 3. Comb through with a tangle teezer
Keeping the hair's curl pattern intact is all about clumps. Gently brush the conditioner through the hair with a tangle teezer to ensure the curls clump together—this will result in super defined curls. *Insert heart eyes emoji.* Once you've raked the conditioner through, carefully rinse the hair again.
Step 5. Apply a hair mask
This step is optional but really helps add a boost of hydration to textured hair extensions. After applying conditioner, repeat the same steps, but this time with a hair mask. Hair masks are a thicker form of conditioner and are made to work their way into hair strands, rather than just sitting on top like regular conditioners. This helps strengthen and add moisture to the hair from the inside, which will  ensure that your curly extensions last and look lush for longer! Rake the hair mask through the hair with the tangle teezer, then wrap the hair around your hand and place them in a shower cap for five to 10 minutes to allow the product to work through the hair. Finally, wash each weft thoroughly in cold water to seal the hair cuticles and prevent frizz.
Step 6. Lay your curly extensions down to air dry
We recommend air drying your curly extensions whenever feasible, as blow drying with heat weakens the hair. Gently squeeze out any excess water, then set the wefts down flat on a microfibre towel to dry.
Step 7. Apply leave-in conditioner or hair oil
Almost there! This step is also optional but goes the extra mile for lasting hydration of your curly hair extensions once the wefts are fully air dried. If you do choose to use a leave-in conditioner, choose a lighter formula that's moisturizing to help reclaim shine and hydrate the curls. You can also use a spray bottle with a homemade coconut milk leave-in conditioner or your favorite lightweight, hydrating hair oil like jojoba oil or argan oil. A tiny bit goes a long way, so don't overdo it!
How do I store curly hair extensions?
To store your curly hair extensions, choose a dry location away from direct sunshine—like your vanity drawer—as the sun's UV rays damage hair and cause dryness and color fading. We recommend storing the extensions in a protective container, or wrapped in a silk or satin scarf or bonnet, or even a silk pillowcase to prevent frizzing and keep the curls intact. Whichever container you choose, be sure to place the wefts carefully stacked on top of each other so they don't get tangled.
How do I prevent curly human hair from tangling and shedding?
(Add image of properly stored hair extensions)
Following our washing process will prevent curls and hair strands from sticking and knotting together. If you do find your curly hair in a tangled mess, don't panic! Start by brushing downward from bottom to top with a wide tooth comb to gradually detangle the natural curls. For more extreme cases, fill a spray bottle with equal parts conditioner and water to give the hair extra slip and make the detangling process a little easier.
And that's it! Now you're ready to rock your beautiful curly hair. If you have any of your own tips and tricks for washing your curly hair extensions, drop them in the comments below. We'd love to hear them.