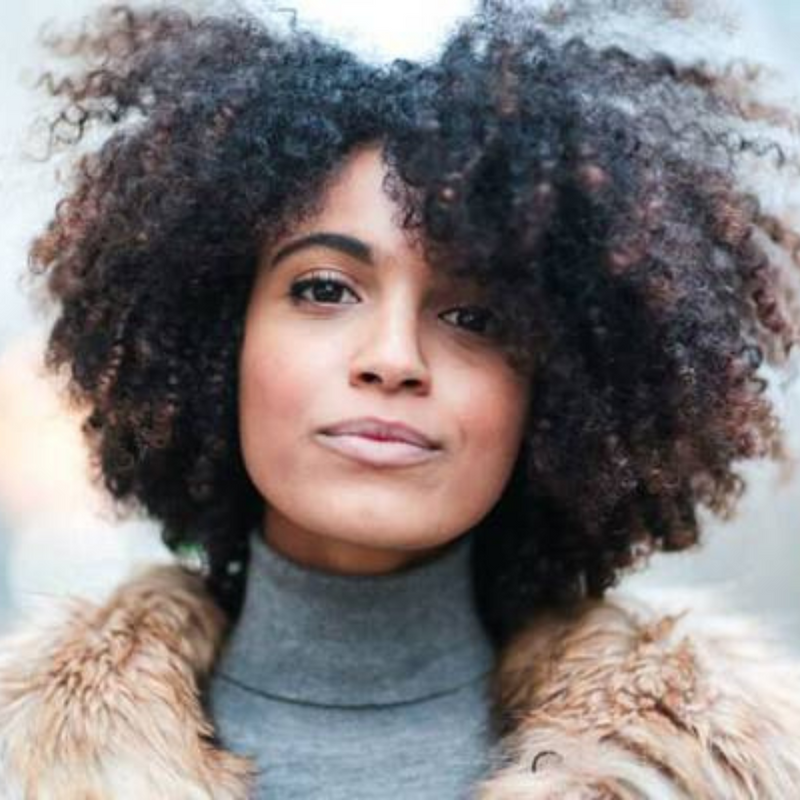 Did you know that the average person loses 50 - 100 hair strands everyday? While this is a healthy amount of hair to lose, it becomes problematic if you're experiencing excessive hair breakage and shedding. And for those with natural hair, it can be difficult to prevent hair breakage because of Type 3 and 4 hair's dry and fragile nature. Sometimes, it can just be a matter of changing up your hair products or hair routine to reduce breakage, but sometimes hair breakage and hair fall can occur because of nutrient deficiencies or hormonal imbalances, so we encourage you to take a look at these areas if you're experience excessive hair fall. In the meantime, we've put together 11 home remedies for natural hair breakage for you to try. 
Why does hair breakage happen?
First, let's talk about why hair breakage happens. Natural hair is predisposed to breakage because its kinky and coily shape means there are more points of weakness on the hair strand. The hair strand itself is also thinner than other hair types. 
While you may notice your hair falling out each day, it's important to understand that shedding and hair breakage are two different things. 
Shedding vs. hair breakage
Shedding is a natural part of the hair growth cycle. Our scalps have hundreds of thousands of hair follicles with hair strands growing out of them, all at different stages of their life. Hair strands go through 3 stages: the "anagen phase," in which hair strands are growing, the "catagen phase," in which the hair strand is nearing the end of its growth cycle, and the "telogen phase," in which the hairs are about to detach and shed off. 
Hair breakage, on the other hand, is caused by factors other than the hair's natural growth cycle, when the hair strand undergoes too much tension and breaks off. This can be due to things like:
Poor diet
Poor hair maintenance
Using incorrect products for your hair type
Heat styling
Chemical styling
Tight hairstyles
Neglecting regular trims
Rough handling after washing, and more
Now that we know why natural hair breakage happens, here's what you can do if you find yourself experiencing it.
11 home remedies to reduce natural hair breakage
First of all, it's important to remember that damage to the particular hair strands that have broken is permanent. It's impossible to undo breakage or split ends. What you can do, however, is prevent future breakage from happening by strengthening and moisturizing the hair strands according to their unique needs, and encourage more hair growth.
1. Scalp massage
Massaging the scalp stimulates blood circulation to the hair follicles and deep conditions the scalp, encouraging hair growth. Massage your scalp with warm castor oil, coconut oil, or jojoba oil, which contain antifungal and anti-microbial properties as well as help moisturize dry scalps, aiding in hair growth.
2. Egg hair mask
Eggs are loaded with nutrients like Vitamins A and E, biotin, folate, and other proteins which are all amazing for thick, strong hair strands. To make an egg mask, mix 2 eggs with 1 cup of milk, 2 tablespoons of olive oil, and 1 tablespoon of honey for extra moisture. Blend it all up and apply to your hair from root to tip, focusing on the scalp. Leave the mixture in for half an hour, then rinse well and follow with your regular shampoo and conditioner.
3. Aloe vera
Aloe vera contains over 75 good-for-you ingredients like Vitamins A, C, E, B12, fatty acids, and amino acids, which make it great for increasing the quality and strength of hair strands. To use aloe vera for natural hair breakage, collect the gel from a fresh aloe leaf and apply it directly to the scalp. Leave it in for an hour, then rinse it off and wash your hair with a mild shampoo.
4. Apple cider vinegar
Apple cider vinegar makes for a great salad dressing, but applying it to the scalp also helps balance its pH. It has anti-inflammatory and anti-microbial properties, as well as cleanses hair follicles without stripping them of their natural oils. This makes it great for removing buildup, soothing the scalp, and promoting hair growth. 
Mix ¼ cup raw, unrefined apple cider vinegar with ¼ cup cool water and a couple drops of your favourite scented essential oils. Apply to your hair and scalp, let it sit for about 10-15 minutes, then rinse off with cool water.
5. Garlic
While we're on the topic of food, let's talk about garlic, which is high in Vitamin C, has anti-fungal and anti-microbial properties, and boosts collagen production in the scalp. Garlic is also high in sulphur, which helps to build up keratin on the hair strands, making them stronger. To use, crush 8 cloves of fresh garlic and mix it with 2 tablespoons of your favourite carrier oil like jojoba, argan, coconut, or olive oil. Apply to the scalp and rinse off after an hour.
6. Green tea
Green tea contains catechins, which are antioxidants that stimulate natural hair growth as well as anti-inflammatory properties and Vitamin B to soothe the scalp and prevent split ends. To use, mix 2 tablespoons of powdered green tea with 1 tablespoon of coconut oil and 1 tablespoon of olive oil. If you need more mixture, double the recipe. Leave the mixture in for 10 minutes, then rinse off.
7. Shea butter
Organic shea butter is rich in fatty acids, triglycerides, vitamin A, E, and F, and antioxidants, which help with blood circulation in the scalp and cell regeneration. To use shea butter for your natural hair, you'll want to make a whipped shea butter mask as follows: 
Add shea butter to a bowl and use a mixer to whip it up. Then, add some carrier oils like jojoba, argan, or avocado, and add some drops of your favourite essential oils like rosemary or tea tree. You won't need much of this mixture to apply to your hair—just about a teaspoon. Warm it up between your fingers, then distribute from the mid shaft to the ends of your hair strands.
8. Oils
There are a variety of oils that are beneficial for strengthening hair strands, promoting hair growth, and preventing natural hair breakage. Some of the best oils for hair breakage include:
Coconut oil
You'll see coconut oil recommended for natural hair very often, because it's rich in medium-chain fatty acids called lauric acid, which deeply penetrates the hair strands, moisturizing and strengthening them from the inside out. Simply take a tablespoon or two of unrefined coconut oil, apply it to your hair and scalp, and wear a shower cap over it. Rinse and shampoo after about 20 minutes.
Castor oil
Castor oil is well known for its moisturizing and soothing properties. It's loaded with Vitamin E as well as medium-chain fatty acids, which, like coconut oil, penetrate the hair shaft deeply. It also has anti-inflammatory and antimicrobial properties to soothe dry, irritated scalps, which may be causing hair breakage. To use, apply 1 - 2 tablespoons of castor oil all over your hair and scalp, and wash off after 20 minutes.
Argan oil
Argan oil is a lighter oil. It contains Vitamin E, which has been shown to improve hair growth, as well as contains antioxidants and fatty acids to moisturize the hair and scalp, and protect hair follicles from free radicals. It's a lighter oil, which means it penetrates low porosity hair well, moiturizing hair strands from the inside out. To use, simply take your favourite argan oil (make sure it's 100% pure with no additives) and massage through your scalp. Leave it in for half an hour, then rinse and shampoo as normal.
9. Avocado
Raw avocados are loaded with Vitamins A, B, C, D, and E, as well as biotin, iron, potassium, and zinc. The potassium in avocados unclogs and cleanses hair follicles, while biotin is a natural hair growth booster. The antioxidants in avocados also protect the hair and scalp from free radicals, which can all lead to hair breakage prevention. To use, add avocado to your favourite hair mask, such as the egg mask mentioned earlier. You can also use avocado oil for a scalp massage, or simply add more avocados to your diet!
10. Onion juice
Yep, you heard us right! Onions actually contain loads of sulphur, which helps prevent hair loss and hair breakage, while anti-inflammatory properties nourish and soothe the scalp. Antioxidants also promote blood flow to the scalp to strengthen fragile hair strands. To use, mix 1 tablespoon of onion juice with 1 tablespoon of coconut oil or avocado oil. Apply to your scalp, then wash after 30 minutes.
11. Vitamins
As you may have noticed, many of our recommendations contain similar ingredients and vitamins. Sometimes, you may want to go straight to the source and boost your supplement intake with Vitamin C, D3, or biotin, which all help to improve your hair's health and thus prevent hair breakage. Vitamin C boosts collagen production in hair follicles, while D3 helps follicles produce more keratin for stronger hair strands. 
Remedy hair breakage the natural way
Natural hair is beautiful and bold, yet delicate and fragile. If you've been experiencing excessive hair breakage, we encourage you to try these home remedies. Let us know in the comments below which is your favourite one!